Extra-Life 2017 : Once more with feeling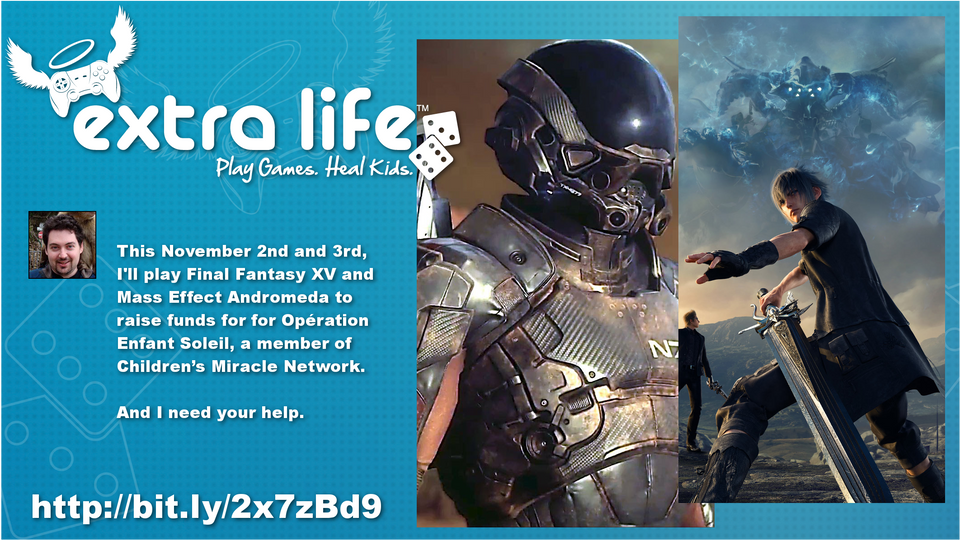 It's not before becoming a parent that I realised the importance of pediatric hospitals. This is why, for the second year, I will be proudly participating to Extra Life 2017. By playing games for 24 hours, I will be raising funds for Opération Enfant Soleil, a non-profit organization that raises funds to develop high-quality paediatrics and to contribute to social health projects for all the children in Quebec.
Technically, properly streaming requires a good setup. Although I'm quite proud of last's year setup, I'm hoping to simplify my setup a bit. With the purchase on an Elgato HD60 earlier this year during Amazon's Days of Deals, recording the video signal will be much easier.
Please contribute to this cause. Your donation is tax-deductible and will go directly to Opération Enfant Soleil.
Games I'll Be Playing
I have some catching up on the Xbox 360 and a good sequel on Xbox One. Some time will also be dedicated to some constructive gaming with my daughter.
Mass Effect Andromeda : [Xbox One]
Final Fantasy XV : [Xbox One]
Megablocks : [Plastic 1.0]
Schedule
As much as the idea is entertaining, I can't really game for 24 hours straight. Instead, I'll be gaming on Thursday and Friday.
Thursday (11/2) : 8:30 am to 17:30 and 21:00 to 00:00
Friday (11/3) : 8:30 am to 17:30 and 21:00 to 00:00
I'll post a schedule of livestreams when I figure out the technical details.