Ubiquiti Switch : Residential Overkill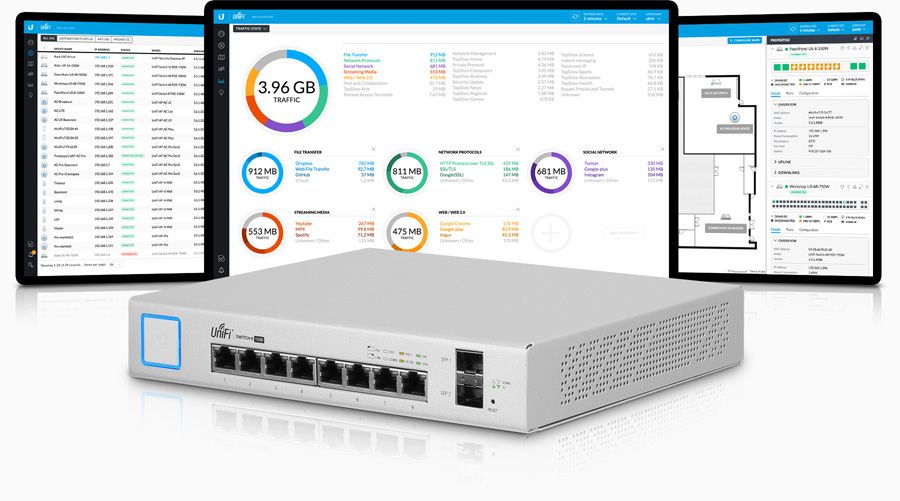 It's not secret that I am a big fan of Ubiquiti hardware. I've already written about their hardware twice in the past. But this latest upgrade to my home network is elegant superfluousness : the Ubiquiti US-8-150W 8 port POE switch.
Why buy this?
The Ubiquiti US-8-150W provides two main advantages over a regular managed switch.
It supports both standard 802.3af PoE and Ubiquiti's 24v passive standard. For those using lots of Ubiquiti equipment in their network, the 24v passive option can greatly simplify your wiring by removing all those power injectors. Network equipment drawing their power from the switch can also easily be power cycled (rebooted) from the switch management interface.

It is fully integrated in Ubiquiti's centralized management application, giving you lots of insight on what traffic is traversing the switch and some advance features typically found on managed switch, like VLANs.
How am I using it?
For now, this switch is central to my network setup.
Port 1 is my Internet Ingress, connected to a Unifi Security Gateway
Port 2 to 6 are used for various computers, Raspberry Pi and an Apple Time Capsule.
Port 7 and 8 are my Unifi AC Access Point powered by 24v.
To anyone looking to purchase this switch, I would give 2 warnings. First, it has a rather large footprint : 8.03" x 9.25", with the power cord requiring an addition inch or two in the back. Second, this device is fanless. Normally, this would be a good thing. However, this thing gets really hot. Be careful not to burn yourself.
I'm really happy with my purchase and would not hesitate to recommend it to anyone currently using the Unifi ecosystem, or looking to use a more elaborate network scheme. However, anybody else should not buy this get a cheap Trendnet switch.