Reliving the Classics with the affordable Anbernic RG35XX
The ANBERNIC RG35XX marries the nostalgic charm of the classic GameBoy design with the nuances of modern gaming in a compact handheld emulator console. With its attractive pricing and a vibrant IPS screen, does it hold the key to unlocking a treasure trove of classic gaming memories?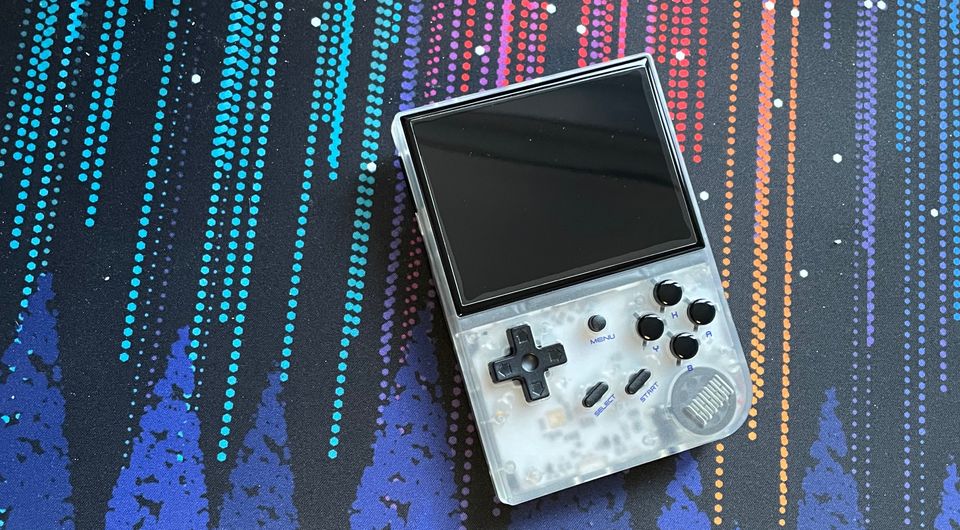 Emulation technology has paved the way for gamers to relive the golden era of classic games by mimicking the functions of older gaming systems on modern hardware. The ANBERNIC RG35XX is a compact handheld gaming emulator console, inspired by the iconic Game Boy design, that offers a nostalgic yet modern gaming experience. With a budget-friendly price tag of 60 USD and a vibrant IPS screen, it is a great introduction to leveraging emulation to revisit cherished gaming memories or exploring vintage titles for the first time.
What is Emulation?
Emulation operates through specialized software known as emulators, software designed to interpret and translate the instruction sets of older systems into a format that is comprehensible to modern hardware. Through this translation process, emulators create a virtual environment that mirrors the operational characteristics of the original systems, ensuring that the gameplay, graphics, and sound closely mirror the original systems. In the case of the RG35XX,  it comes equipped with emulators for a variety of classic gaming systems, allowing players to delve into a vast library of retro games spanning across platforms like the NES, SNES, Sega Genesis, and various Game Boy platforms.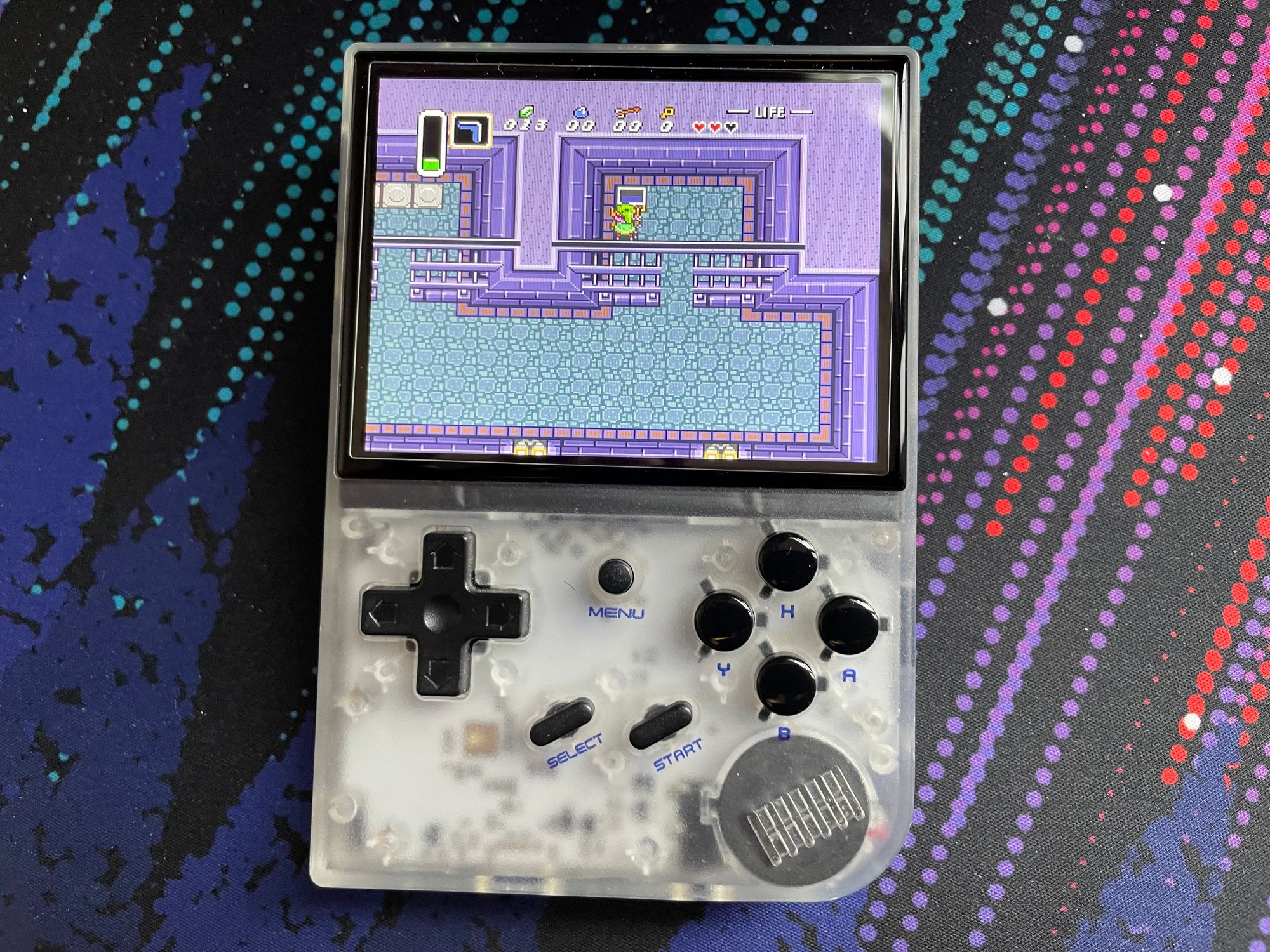 To play a game using an emulator, one must have a digital copy of that game, often referred to as a ROM for classic platform. Collecting ROMs enters a legal gray area primarily due to issues surrounding copyright infringement. Gaming companies view the distribution of ROMs as a form of piracy, which can lead to significant financial losses. However, in some jurisdiction, owning a ROM copy of a game is legal if the individual also owns a physical copy of the game. That said, the acquisition of ROMs is outside the scope of this article, which focuses on the ability of the Anbernic to play the games.
Touch and Feel
The RG35XX has a build reminiscent of the classic Game Boy but with a more compact frame, making it a portable companion for on-the-go gaming. The device flaunts a 3.5-inch IPS screen that breathes life into every pixel with vibrant colors and sharp visuals. The build quality is commendable, especially given its price point. The buttons on the RG35XX have a solid feel with a satisfying tactile response, reminiscent of the classic console buttons. However, the shoulder buttons can be a bit less ergonomic, with the R2 and L2 triggers in a position very difficult to reach, especially over longer gameplay sessions.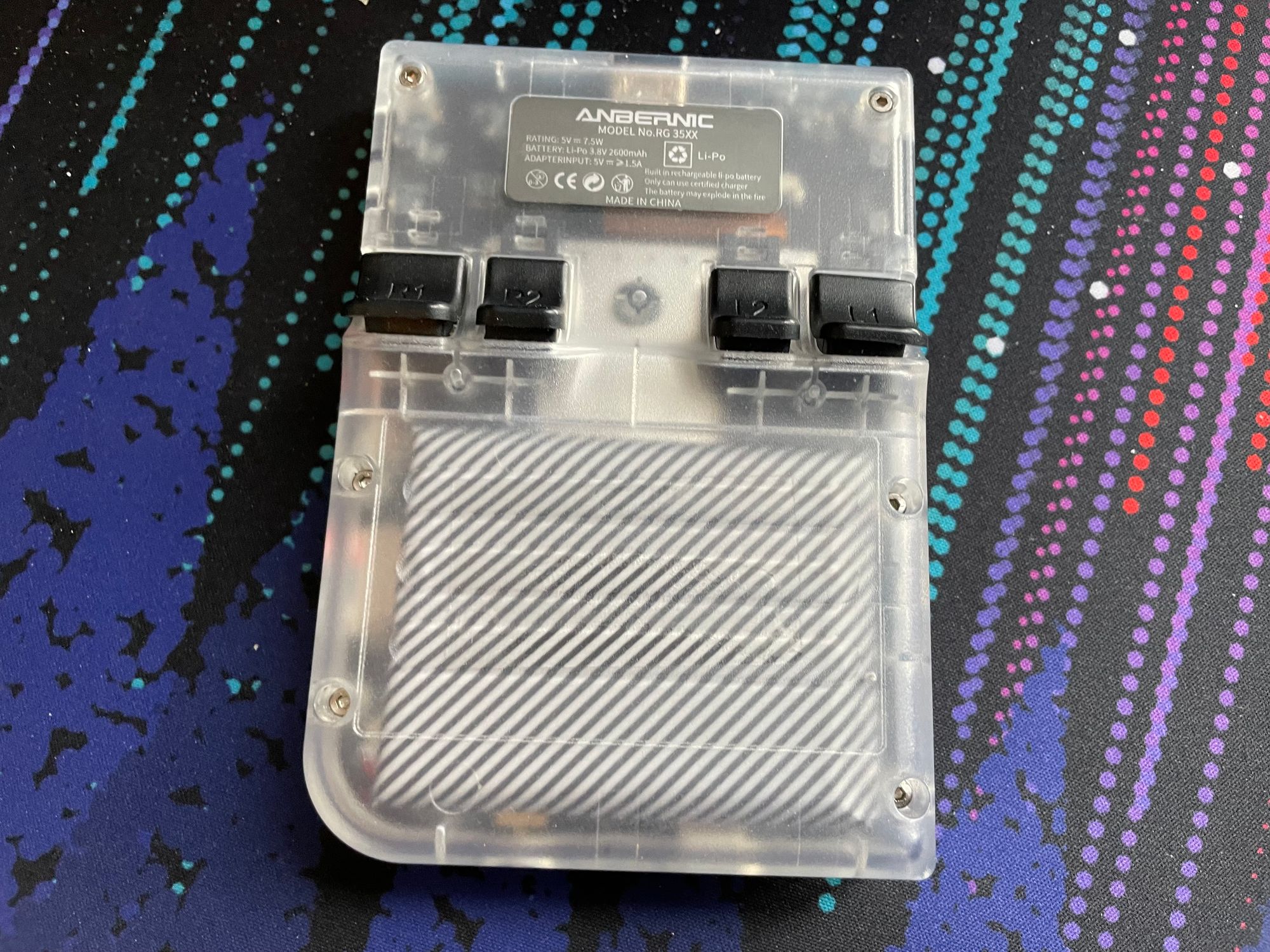 The RG35XX is powered by a Quad-core ARM Cortex-A9 CPU, a Quad-core PowerVR SGX544MP GPU, and 256MB DDR3 RAM. Storage options extend up to 128GB via microSD, providing ample space for a vast game library. The display is a 3.5-inch IPS with a resolution of 640x480. The battery is around 2100 mAh, offering up to 6 hours of gameplay, and connectivity options include USB-C, HDMI output, and 2.4G wireless/wired gamepad connection.
💡
The RG35XX is charged through its USB-C port. However, the console cannot handle high power chargers. If a particular charger does not charge a console, try a less powerful one.
The portable game device is adept at emulating a wide spectrum of classic gaming systems, including popular systems like PlayStation 1 to the GameBoy Advance, NES, SNES, and many more. The performance is generally smooth, with most games running without significant hiccups. However, it is essential to note that the device's capabilities are capped at PS1 games and below; more recent systems like the PSP and Dreamcast are beyond its reach.
An unusual feature of the RG35XX is the dual SD memory slot. The first SD should be used to store the operating system (i.e. the software running on the device) while the second allows for game storage. This allows the operating system to be updated independently from the games stored on the console.
⚠️
The SD cards provided with the console are particularly cheap and prone to failure. They should be replaced pretty quickly when purchasing this device.
A Touch of Garlic
The RG35XX comes with a stock operating system that is basic but user-friendly, ideal for those who prefer a plug-and-play experience. However, for those seeking more customization and features, there's the option to use Garlic OS, a custom firmware based on RetroArch. Garlic OS provides a more polished user interface and additional features, enhancing the overall gaming experience and allowing for more personalized settings. However, searching for a particular game can be a chore when hundreds of games are loaded on the SD card.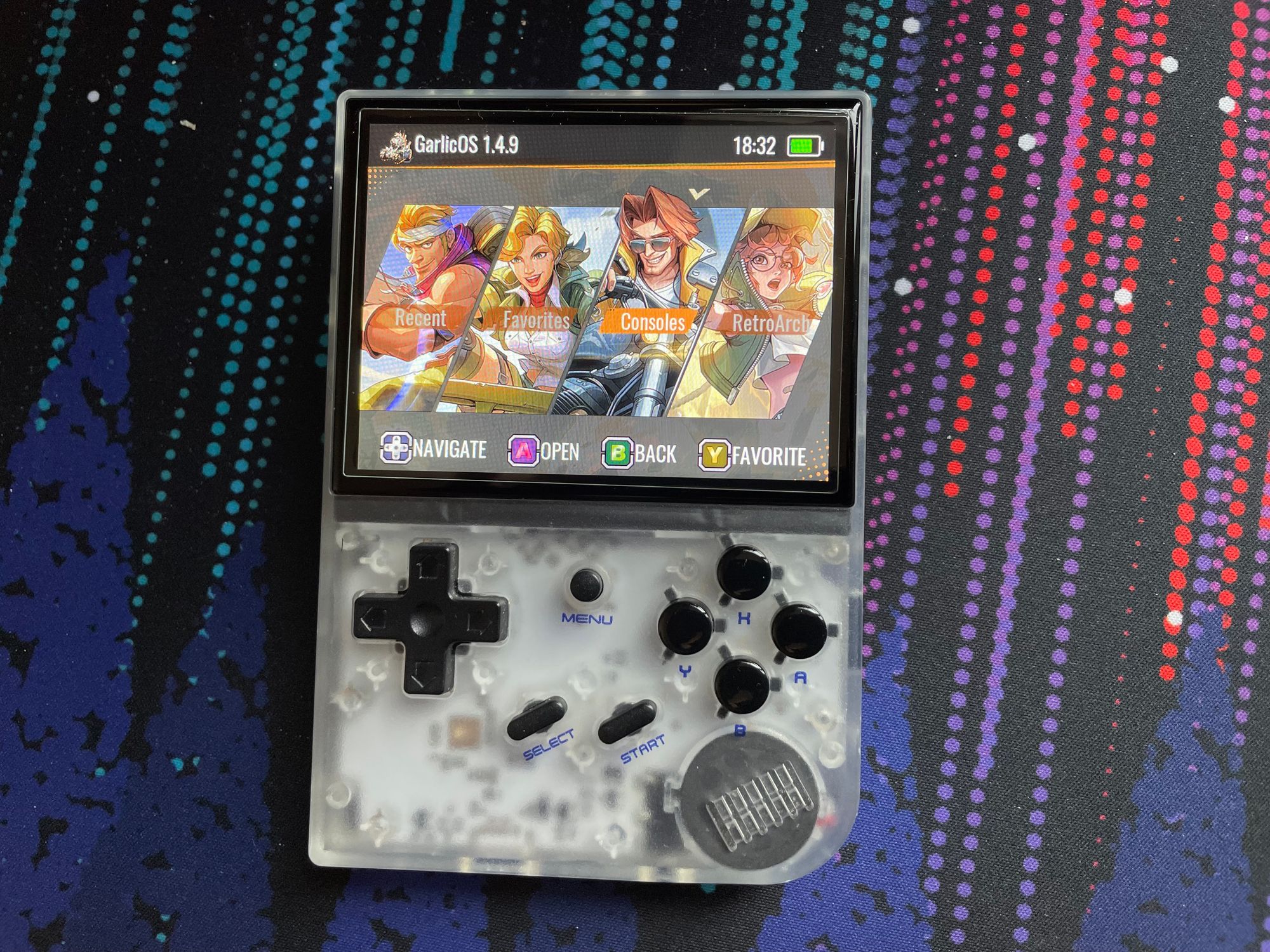 One notable feature is the device's ability to suspend games, allowing players to pause their gameplay and resume it later. This is a handy feature for those who are constantly on the move and prefer to pick up their gaming sessions right where they left off. Unless most traditional suspend, Garlic OS will take a snapshot of the current memory state, save it to storage and turn itself off. Since Garlic OS can boot in a couple of seconds and resume from the snapshot, the suspend experience is reasonably fast and incredibly power efficient. A RG35xx can spend days in a suspend state with little to no battery drain.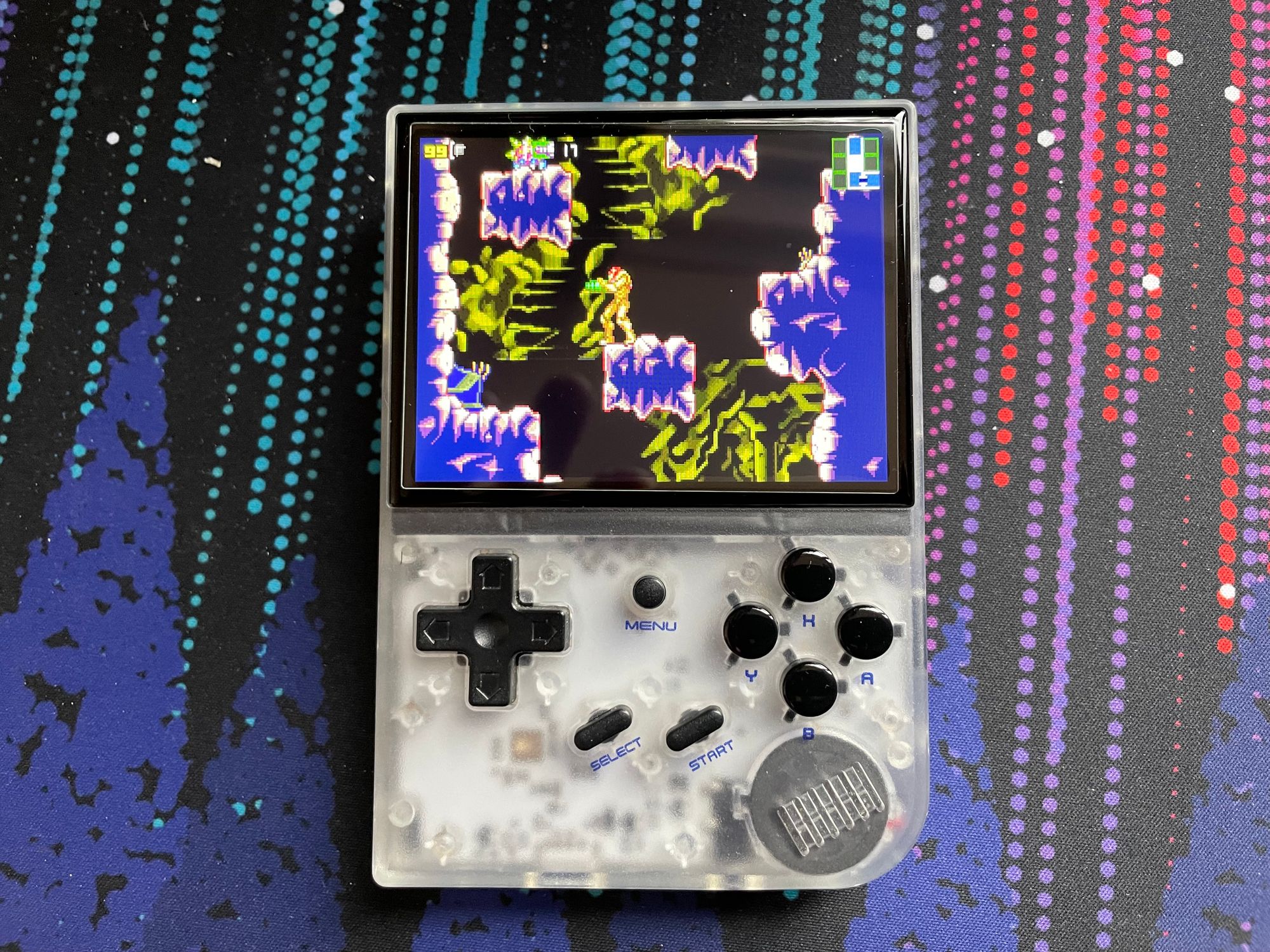 Buy or Not?
At 60 USD, the RG35xx is an impressive and affordable portable emulation device. Through the contribution of custom firmware, it is easy to use and can handle a large array of games. It's easy to recommend this device to anyone wishing to reclaim the nostalgia of their past games. However, some technical skill is required to configure and upgrade the console, so I would not recommend it to anyone not comfortable with a file manager. In addition, the device can feel a little cramped for people with larger hands.
Anbernic has demonstrated a solid understanding of the portable emulation market. With multiple models available in different format and price point, there are options for all users. The RG35xx provides a low cost entry point into this gaming ecosystem, and is a worthy successor to previous portable consoles.
💡
Do you own a portable emulation device? Sound off in the comments below with your thoughts and experience. If you enjoyed reading about this project, you might be interested in
upgrading a GameBoy
or in
some interesting games to try
. And you can get more Technodabbler articles directly in your inbox as they are published by
subscribing
to our mailing list.